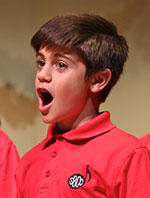 The South Bay Children's Choir, based at El Camino College, provides children who are passionate about music with a first-rate choral experience.  Our program includes world-class choral training with the finest conductors, instruction in sight-reading and music theory, concerts at the Marsee Auditorium as well as other locations, and international tours.
Auditions are done by appointment only in January, June and August. Please contact us to schedule an audition.  You are welcome to contact us at any time during the year, and we will notify you when our next auditions will be.
Members are carefully placed in one of six progressive levels: Minnesingers, Meistersingers, Choristers, Choraliers, Concert Choir and Bel Canto.  Placement is based on age, musical skills and vocal development.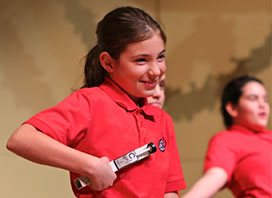 The audition process lasts approximately 90 minutes and consists of a group orientation, an interactive musical workshop, and individual vocal assessment. No advanced preparation is necessary. During the audition, our directors will work with each child to determine which ensemble will be the best fit for him or her.
Auditions are held in Room 134 of the Music Building at El Camino College in Torrance.  The Music Building is at the corner of Crenshaw Blvd. and Redondo Beach Blvd.  You can park in Lot K if you buy a parking permit for $3.  After walking up the stairs closest to the Campus Theatre, you will find Room 134 in the courtyard of the Music Building. (Campus Map)
For more information about ensembles, tuition and rehearsal schedule, please click here.