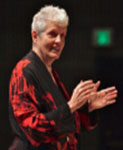 Ms. Diane Simons, Artistic Director
Director of Bel Canto and Junior Concert Choir

In 1996, Ms. Diane Simons co-founded the choir with the late Dr. Jane Hardester, who retired from the choir in June 2000. Inspired by a vision of choral excellence for children and of providing choral education to children of the South Bay and surrounding communities, the founders built a program that has achieved a high degree of success. Ms. Simons earned her Bachelor of Arts Degree in Music from UCLA and has conducted choirs at both the high school and the elementary school levels, as well as teaching voice at El Camino College and in her private studio. She presents workshops for singers as well as teachers and has been active as musical director for Community Theater. In 2009 she conducted the Los Angeles Unified School District Elementary Honor Choir. She retired from teaching music in the El Segundo Unified School District in 2004 after 37 years of teaching in that district. She served on the Western Division ACDA Board as the Repertoire and Standards representative for children's choirs from 2007 until 2013.