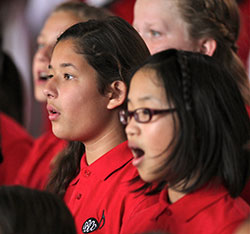 The South Bay Children's Choir in Los Angeles County is known for their beautiful tone, expressive singing and inspiring performances.  Based at El Camino College, the Choir has members from over 25 communities all over the Los Angeles area with many from Torrance, Manhattan Beach, Redondo Beach, Hermosa Beach, El Segundo, Palos Verdes Estates, Rancho Palos Verdes, Rolling Hills Estates, Hawthorne, San Pedro, Gardena, Carson and Long Beach.
Co-founded by Artistic Director Diane Simons and the late Dr. Jane Hardester, their vision has been to provide outstanding music education, pursuing excellence in choral art within a nurturing environment. The Choir is made up of six ensembles from beginning to pre-professional level directed by Diane Simons, Julie Corallo, Jake Asaro, Mary Herzbrun and Dr. Beth Nam.
SBCC is proud to have its own composer-in-residence, Bud Wayne Bisbee, who has composed numerous works that were written for and premiered by the South Bay Children's Choir over the past 18 years.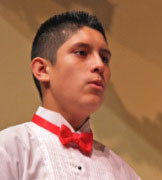 Since its inception in 1996, the South Bay Children's Choir has become one of the premier children's choirs in Southern California. SBCC is regularly invited to perform in professional adult concerts. Most memorable performances have been singing in the Nutcracker with the Moscow Ballet, performing in several Christmas Eve concerts at the Dorothy Chandler Pavilion, and numerous collaborations with the Long Beach Camerata Singers. SBCC has also sung in four performances of Mass of the Children, one of which was conducted by the composer, John Rutter, at Carnegie Hall.
In 2008, the Choir was honored with an invitation to perform at the Western Division American Choral Directors Association Convention. They were one of only two youth choirs to be chosen from the five participating states, and they received a standing ovation from the audience made up entirely of choir directors.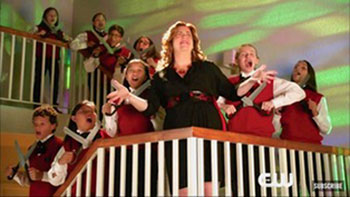 In 2013, SBCC teamed up with two-time Grammy Award Winner Cathy Fink and the internationally-acclaimed Albert McNeil Jubilee Singers of Los Angeles to present the Great American Folk Song Concert, performing music from bluegrass, folk and spiritual traditions. SBCC has also been invited by Golden Globe Winner Rachel Bloom, a former choir member, to perform on her hit TV show, Crazy Ex-Girlfriend.
The Choir regularly tours within the United States as well as internationally. SBCC has traveled four times to Canterbury and London to participate in the International Children's Choir Festival in England led by world-class conductors Henry Leck and Dr. David Flood. The Choir has also attended the Pacific Rim Festival in Hawaii, the Appalachian Festival of Young Voices in West Virginia and the Sing a Mile High Festival in Colorado.
As a way of giving back to the community, the Choir makes annual visits to local retirement homes and has performed in fundraiser events for such organizations as Mu Phi Epsilon and the Salvation Army. SBCC has also sponsored numerous festivals for choirs from local schools as well as other children's choirs.
For information about our Artistic Team, please click here.